Luggage Boxes & Roof Baskets
LUGGAGE BOXES
Can be classified into two families: ski box or luggage box. Ski boxes are predominantly longer and narrower and luggage boxes shorter and wider. Both are excellent travelling companions for storing suitcases, travelling bags, camping equipment, baby needs, golf clubs etc. Roof boxes are waterproof and key locked. Ski boxes being longer are great for transporting ski equipment and surfboards. All good quality roof boxes have a "one size fits all" mounting kit to roof bars.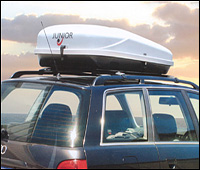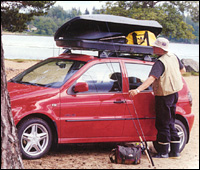 ROOF BASKETS
Are manufactured in many different shapes and sizes and more commonly made from aluminium or steel. Baskets can be one unit or separate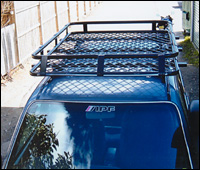 from roof racks. They are strong and robust, excellent for carrying spare wheels, fuel, water and four-wheel driving gear. They can also be used for lighter luggage and zip-up bags are available to cover your contents, however they offer no security.


For more information visit the following web sites:
Rhino Rack Australia
Yakima